Aber Instruments and LiveWires Automation's Cutting-Edge Partnership
Released: 17th July, 2023
OPTURA Range and Advanced Datalogging
In today's dynamic industries, data-driven insights are essential for maximizing operational efficiency and maintaining high-quality standards. At Aber Instruments, we constantly strive to innovate and provide our customers with cutting-edge solutions. That's why we partnered with LiveWires Automation, a renowned software development company, to create a state-of-the-art datalogging app. This collaboration has resulted in a ground breaking software solution that complements our new Optura Range of Biomass Sensors, revolutionizing data logging and analysis for our valued customers in the food, beverage, and pharmaceutical industries.
As a leader in capacitance sensors, Aber Instruments has always been at the forefront of technology. Our Optura Range takes a leap forward by incorporating bio-reflectance measurements, allowing for unparalleled accuracy and reliability in biomass sensing. This innovation opens up a world of possibilities across various applications, empowering industries to achieve optimal process control and product quality.
Through our collaboration with LiveWires Automation, we have developed a full-featured datalogging app that empowers our customers to unlock the true potential of our Optura sensors. Designed with user-friendliness and advanced functionality in mind, this software revolutionizes the way our customers collect, analyze, and optimize their data.
With our datalogging app, adding or removing Optura devices is simple. Thanks to LiveWires Automation's expertise, we have created a seamless integration process that allows users to incorporate sensors "on the fly." Each device is assigned a dedicated tab within the software's intuitive interface, ensuring effortless organization and smooth navigation.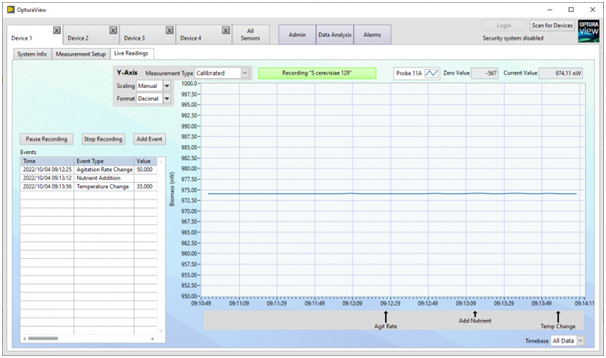 We understand that precision is paramount when it comes to data acquisition. That's why our datalogging app provides users with extensive control over their logging process. With the ability to start, pause, resume, and stop recording, our customers have the power to capture data accurately and efficiently, enabling them to make informed decisions and optimize their processes.
Users can overlay up to four runs on a single graph, facilitating easy comparison and alignment of data. This retrospective analysis feature helps identify trends, evaluate process variations, and make data-driven decisions confidently. Our datalogging app includes a robust login/logout system, supporting an unlimited number of users. With personalized access and password change reminders, collaboration and secure data management are streamlined.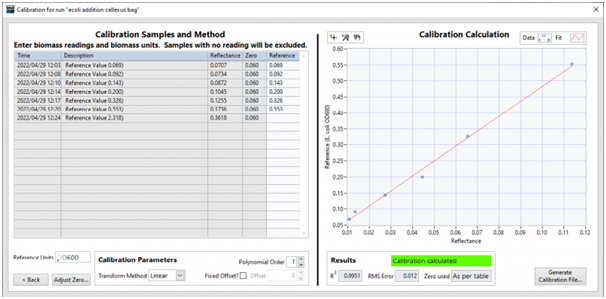 Keeping up with advancements is crucial. Our app allows users to effortlessly update device firmware and sensor details, ensuring compatibility with the latest features and facilitating smooth operations.
Through our collaboration with LiveWires Automation, Aber Instruments has developed a revolutionary datalogging app that complements our Optura Range of Biomass Sensors. This comprehensive software solution empowers our customers in the food, beverage, and pharmaceutical industries to optimize their processes, ensure product quality, and drive efficiency. With Aber Instruments and LiveWires Automation working in harmony, we continue to push the boundaries of data-driven solutions, empowering our customers to excel in their respective fields.
To learn more about LiveWires and their contributions to LabVIEW development, visit their website at http://www.livewires-automation.co.uk
Released: 17th July, 2023